Tweet
-----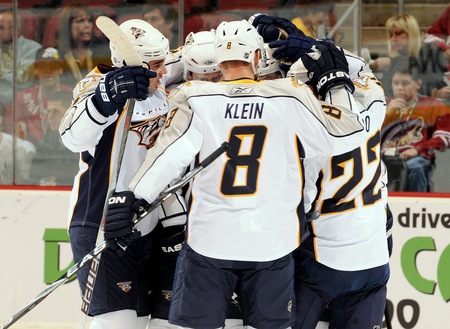 There is always one player that is used as the scapegoat, or just plain goat depending on who you ask. There are reasons this happens: that play could have been prevented or that puck didn't go in. These players draw the ire of fans both on the fringe and the hardcore alike. No player on the Predators typifies this stigma than #8 Kevin Klein…but my question is….does he deserve this disdain?
The Nashville Predators are coming off of their best season in franchise history (in terms of success, not points). The underdogs have done it again and at a bargain basement price thanks to the effort of David Poile and Head Coach Barry Trotz. One would ask how Trotz is able to do so much with so very little? The answer is what has been coined as "The Predator Way." It is the way individuals buy into the team aspect preached, coached and played at the NHL level and never more so than in Nashville. At around the salary cap mid-point, this defense first philosophy that ruminates throughout the Predators organization has put up numbers such as these over the course of the 2010-2011 season:
2nd Lowest in Goals Against
3rd Lowest in Goals Allowed per Game
2nd Lowest Power Play Goals Against
5th in the League in Penalty Kill %
In regards to Klein, these accolades would not have been attainable had it not been for some stellar play on the PK and Even Strength of which Klein holds the lion's share. Playing outside of his defensive partner for the last two seasons, Dan Hamhuis (who had career numbers in Vancouver), Klein was able to show how it is possible that Hamhuis, not Klein should have faced the derision in the 2nd defensive pairing from 2008-2010. Let's go to the numbers again, shall we?
Kevin Klein 2010-2011:
Top 20 in the NHL in Shorthanded TOI per Game (#11 SH TOI)
Top 10 in the NHL in Blocked Shots
Led the Predators in SH TOI (256:36)
Led the Predators in SH TOI per Game (3:10)
2nd on the Predators in Even Strength TOI
These are significant numbers that support Klein's ability as an elite level penalty killer. He logged considerable time in Even Strength TOI, especially with the loss of Bouillon and Suter to injury. His +9 puts him 3rd on defense for the Predators, 2 ahead of all-world defenseman Shea Weber. Klein also had the least amount of penalty minutes of any defenseman on the Predators skating in at least 30 games (Blum had 8 PIM, Laakso had 0 PIM).
Now don't get me wrong, Klein does have some shortcomings that need fixing as well. He is not above reproach for his NHL #18 ranked Giveaway total of 61 by a defenseman. And many remember his gaff with the puck near the Predators' bench against Atlanta that leads to a turnover and a game-clinching goal for the Thrashers. But, let's take these foibles with a grain of salt. As proven by the numbers throughout this article, Klein does not deserve so much angst thrown his way.
He is one of the most productive members of our defensive squad and is tops in the NHL in very important categories. Klein's contributions have helped Nashville to have one of the stingiest blue lines in professional hockey and are a primary reason many teams don't wish to draw us in the playoffs. And now with the addition of Jack Hillen and more chemistry building with Blum and the other rookies at training camp, look for our defensive core, including #8 Kevin Klein, to keep the opposition at bay with solid shot-blocking and an impassable penalty kill.