Tweet
-----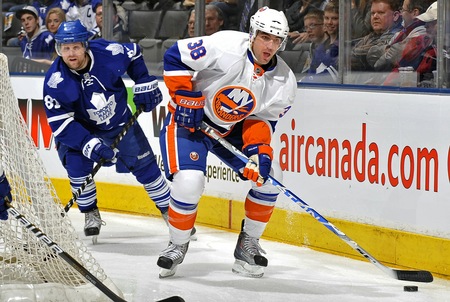 Just as The Predatorial was posting an article of mine wondering what Poile might do for the lack of Bouillon in the short term and rookies such as Ellis, Josi, Ekholm, and Laakso slated to start training camp and possibly the season for the Predators, Poile makes a move to sign Jack Hillen to a 2-way, $650k contract.
On blogs/message boards such as HockeyBuzz, SBNation, and others, many Islanders fans are slightly disappointed in losing Hillen. Although short in stature and size (5'9″ and 190lbs), many of the fans equate Hillen not being given a qualifying offer to the amount of healthy defensemen coming back for the Islanders. Hillen was second on the Islanders in blocked shots, third in points for a defenseman, and as shown in a previous article by Kris Martel, Hillen can throw one heck of a hip check. The contract on Hillen is the kicker where just about every Islanders fan called this a steal.
Player: GP, G, A, P, +/-
Shea Weber: 82, 16, 32, 48, +7
Ryan Suter: 70, 4, 35, 39, +20
Cody Franson: 80, 8, 21, 29, +10
Jack Hillen: 64, 4, 18, 22, -5
Kevin Klein: 81, 2, 16, 18, +9
Shane O'Brien: 80, 2, 7, 9, +1
His offensive numbers are decent (4 goals, 18 assist, 22 points) and would have been 4th on our team for points from a defenseman. He had a +/- of -5 last year, but considering the defensive woes on the Islanders along with a merry-go-round of goaltending, Hillen would have faired a better +/- on any other team aside from Edmonton or Colorado. Hillen should do much better on a defensive-minded team like the Nashville Predators and imagine 80-82 games of his contributions.
There are, however, concerns about injuries that have kept him from playing a complete season with the Islanders. Hillen took a slap shot to the face from Ovechkin and some of the fans have stated that Hillen has been very tentative ever since that injury. I hope that isn't the case and he returns in the form of a shot blocker and positional defensive player similar to when the Predators had Greg Zanon. Of course, his ability to provide some offense would also help a goal-starved team like the Nashville Predators.
Once again, Poile finds this kind of talent under the radar, and certainly under my radar. In my article, I was looking more for the bigger name and higher contract like Bryan McCabe, Jeff Woywitka, and Scott Hannan, but needless to say, Poile may have caught lightning in a bottle once again.
And since I asked for help on defense and the call was answered, maybe I should go ahead and ask for a top six scorer for the Predators and see if Poile can come through again.
"Hey Poile, how about a top six scorer?"